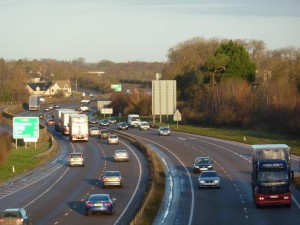 The A417 / A419 Latton – Cirencester bypass has a brushed concrete surface. It is well known that surfaces of this type cause considerable road noise.
The government has acknowledged that this type of surface is not appropriate, and set out a program in 2003 to replace all concrete roads by 2011. At that time Alistair Darling stated, "Measures that minimise the effect of traffic on the people who live alongside roads is as important as trying to ensure that people can travel safely and reliably"
The government report into concrete roads and the associated issues can be seen here
Due to funding issues and limited resources, the A417/A419 problem has not been addressed, in spite of it having a very strong case.
The road was expanded in 1997 under a DBFO (Design, Build, Finance and Oper­ate) con­tract which runs for a period of 30 years and focuses on the pro­vi­sion of an oper­at­ing ser­vice rather than an asset. Details can be found here
 The A417/A419 is unusual in that it is managed and maintained by a private company, Road Management Group, on behalf of the Department for Transport.
The concrete section runs for 14.2km between Latton and just north of Cirencester,
A noise pollution assessment carried out by the government in 2003 declared…
"The results of the noise survey showed the current noise levels on the A417/19 are five decibels greater than predicted at the time of the public inquiry".
To give it context, if the volume of traffic were to double, the predicted noise increase would be around 3dB.
Of the concrete roads built during the 1990s the A417/A419 has one of the largest discrepancies of Predicted vs Actual.
From an acoustic perspective the change in tyre noise between concrete road surfaces and porous asphalt surfaces is dramatic. Concrete Roads are generally accepted to generate far more noise than conventional tarmac.
The road, opened in December 1997, is expected to last at least 25 years before maintenance is required.