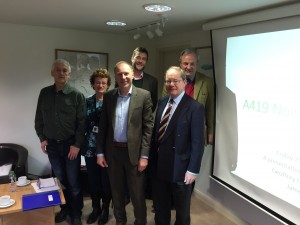 The campaign to cut noise from the A419/A417 has got new backing from the area's two MPs.
An action group, calling themselves A419NAG (Noise Action Group), has been lobbying on behalf of residents all along the infamous road for the last 3 years.
Last Friday, the group met with parish and town council chairs from up and down the A419, representatives from Highways England and the area's two MPs, Geoffrey Clifton-Brown and James Gray.
The meeting, held at Down Ampney Village Hall, heard about the campaign group's ongoing battle to address the noise issue for thousands of residents in Gloucestershire and Wiltshire.
Cllr Paul Hodgkinson (GCC, Bourton and Northleach) chairs the group and said that the aim of the meeting was to get a commitment from the MPs to help cut the excessive noise:
"Our own scientific readings show that noise levels have doubled since the road was built in 1997. Residents were promised a tarmac surface but long stretches were built in concrete. The traffic has steadily increased along with many more lorries. This pollution is more than an irritant – our own survey has proved that this excess noise is impacting on the health and well-being of communities next to the highway."
At the meeting, attended by 30 people, the two MPs promised to raise the issue with Environment Minister Liz Truss. Highways England confirmed that only one stretch of the road – next to Latton – has been earmarked for noise reduction measures.
The MPs will also ask the Government to speak direct to local residents when it carries out its next 'noise mapping' exercise in 2017. This exercise, to be carried out by the Department for Environment and Rural Affairs (DEFRA), will earmark roads across the country which have noise pollution issues.
Cllr Hodgkinson stated that the group's message must lead to the concerns of people in the Cotswolds and Wiltshire being taken seriously at last:
"There's a compelling message to tell – this road noise has increased so much that residents now want urgent action. We are looking to our representatives to press hard for our area and help us right this wrong."