NEW
We recently met with our local MPs and Highways England. Read our press release in the 'Latest News' section  – We hope to have news on the meeting's developments in the near future.

_______________________________________________________________________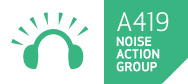 Campaigning to resurface the concrete section of the A417/A419
Since the completion of the A417/A419 Latton to Cirencester by-pass, people living along this section of the road have suffered excessive noise pollution. This massively disruptive problem to everyday life is caused not just by the sheer weight of traffic but by the surface used – concrete.
At the time of its construction the estimates for noise generated by the road were far below what we now experience. The decision to use concrete, rather than more environmentally friendly asphalt, was based on cost benefits and the payback is that it has brought misery to thousands living along this stretch of the road. This problem is affecting people's health, enjoyment of their homes and local businesses are also feeling the impact.
We believe that all who suffer the horrible consequence of this miscalculation deserve to be given the road they were promised. This can be achieved by resurfacing the concrete with a quieter, more suitable material.
You can learn more about the campaign and the results of a recent survey by downloading our report A419 NAG Report July 2014  And if you haven't already done so please complete the survey as we will update the report with the latest statistics in the near future.